Rof Electro-optic modulator Wavelength 1064nm Intensity modulator 10GHz
Product Detail
Rofea Optoelectronics offer Optical and photonics Electro-optic modulators products
Product Tags
High modulation bandwidth
Low half-voltage
High stability
Low insertion loss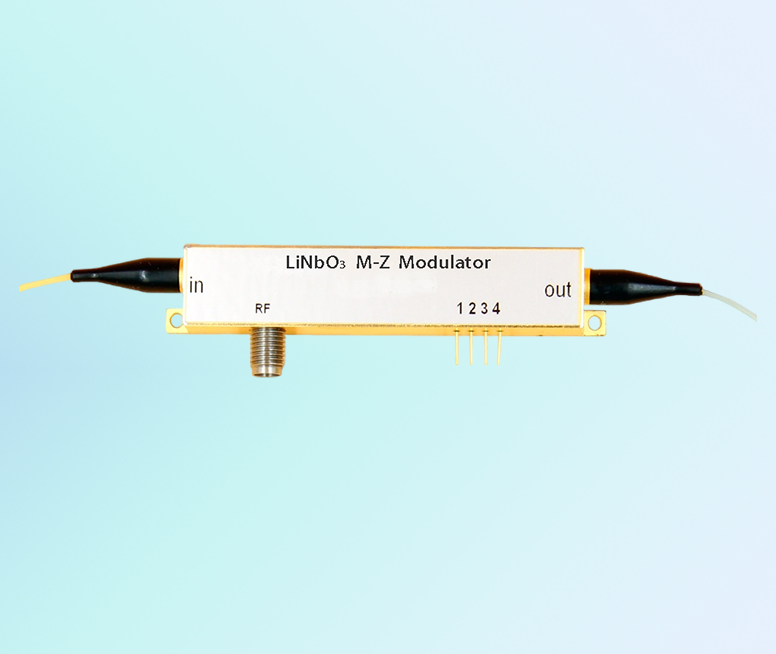 Application
Optical fiber sensing system
Pulse optical modulation system
Pulse generator
Analog transmission link
Specifications
Parameter

Symbol

Min

Typ

Max

Unit

Optical parameters
Operating wavelength

l

980

1060

1150

nm

Insertion  loss

IL

-

4

5

dB

Optical return loss

ORL

-40

-45

-

dB

Switch extinction ratio@DC

ER@DC

20

25

-

dB

Dynamic extinction ratio

DER

12

13

dB

Optical fiber
Input

PM fiber 980 nm

Output

PM fiber 980 nm

Optical connector

FC/PC、FC/APC or user specified

Electrical  parameter

Operating bandwidth (-3dB)

S21

2.5

20

GHz

Bandwidth fluctuation

DS21

-

0.5

1

dB

Half wave voltage Vpi

RF

Vπ@50kHz

-

4

4.5

V

Bias

Vπ@Bias

-

5

6

V

Electrical  return loss

S11

-

-12

-10

dB

Input  impedance

RF

ZRF

50

W

Bias

ZBIAS

1 M

W

Electrical connector

SMA(f)
| | | | | | |
| --- | --- | --- | --- | --- | --- |
| Parameter | Symbol | Unit | Min | Typ | Max |
| Input optical power | Pin,Max | dBm | | | 13 |
| input RF power | | dBm | | | 28 |
| Bias voltage | Vbias | V | -20 | | 20 |
|   Operating temperature | Top | ºC | 0 | | 70 |
| Storage  temperature | Tst | ºC | -40 | | 85 |
| Humidity | RH | % | 5 | | 90 |

ordering information:
ROF

AM

10

XX

XX

XX

Modulator  type :AM---intensity modulator
Operating wavelength :10---1064nm
Operating bandwidth :2.5G---2.5GHz

10G---10GHz

20G---20GHz

Input output optical fiber:PS---PM/SMF

PM--- PM/PMF

Connector:FA---FC/APC

FP---FC/PC

SP---user specified
 please contact me if you have special requirement
---
Previous:
Rof Electro-optic modulator 1550nm AM Series Intensity Modulator 10G mach-zehnder modulator
---
Rofea Optoelectronics offers a product line of commercial Electro-optic modulators, Phase modulators, Intensity modulator, Photodetectors, Laser light sources, DFB lasers,Optical amplifiers, EDFA, SLD laser, QPSK modulation, Pulse laser, Light detector, Balanced photodetector, Laser driver, Fiber optic amplifier, Optical power meter, Broadband laser, Tunable laser, Optical detector, Laser diode driver, Fiber amplifier. We also provide many particular modulators for customization, such as 1*4 array phase modulators, ultra-low Vpi, and ultra-high extinction ratio modulators, primarily used in universities and institutes.
Hope our products will be helpful to you and your research.