Rof Electro-optic modulator MIOC Series Y-Waveguide Modulator
Product Detail
Rofea Optoelectronics offer Optical and photonics Electro-optic modulators products
Product Tags
* X-cut, low insertion loss
* APE waveguide, high polarization extinction ratio
* Push-pull electrode, low half-wave voltage
* Well long-term stability and small package size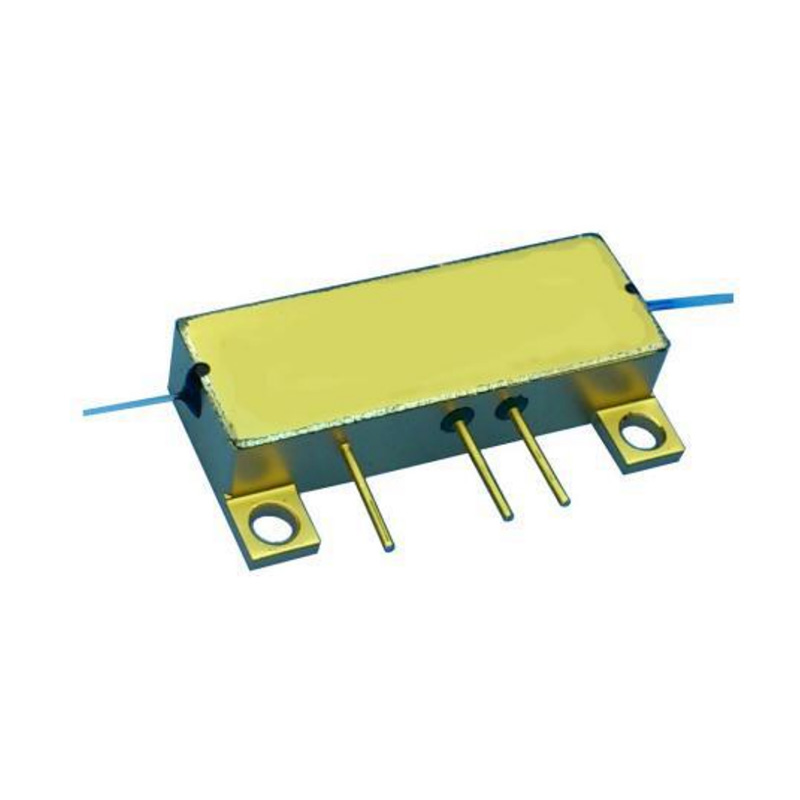 Application
• Fiber optical gyroscope (FOG)
• Fiber Optic Current Sensor (FOCS)
• Hydrophones and other optical fiber sensing fields
Parameters
Category
Parameter
Symbol
Unit

Numerical value

Optical parameters

Operating wavelength
λ
nm
1290~1330
1530~1570
Insertion loss
IL
dB

≤3.5

Change of insertion loss at full temperature
ΔIL
dB

≤0.5

Coupling Ratio
D
%

50±2

Change rate of spectral ratio at full temperature
ΔD
%
≤3.0
≤2.0
Backward light reflection
RL
dB

≤-55

Residual Intensity Modultion
RIM

≤1/1000

Ambient temperature pigtail polarization crosstalk
PER
dB

≤-30

Full temperature pigtail polarization crosstalk
PERT
dB

≤-25

Electrical parameters

Half wave voltage
VΠ
V
≤3.5
≤4.0
Waveform slope
S

≤1/250

Bandwidth
BW
MHz

≥500

Packaging structure

Packaging form

Metal or ceramic

Device size (excluding pins)
mm

30×8×5

Pigtail type
Small mode field (6.0mm) PM Fiber
 PM Fiber
Fiber length
L
m
≥1.0
≥1.2

Environmental indicators

Working temperature
Tw
℃

-45~+70

Storage temperature
Ts
℃

-55~+85
Mechanical Diagram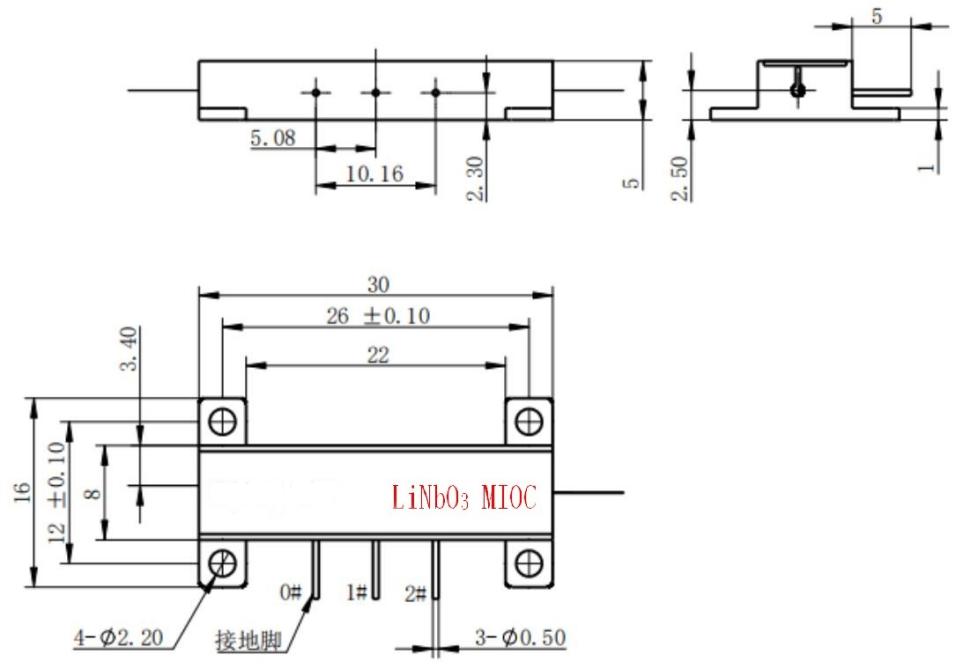 Ordering information
KG
MIOC
XX
XX
XX
Multifunctional integrated optical device
Wavelength:

13---1310nm

15---1550nm

In-Out Fiber type:

PP---PM/PM

Optical connector:

FA---FC/APC

FP---FC/PC

N---No connector
About Us
Rofea Optoelectronics offers a product line of commercial electro-optic modulators,phase modulators,photodetectors,laser light sources,dfb lasers,optical amplifiers,EDFAs,SLD laser,QPSK modulation,pulse laser,light detector,balanced photodetector,Semiconductor laser,laser driver,fiber coupler,pulsed laser,fiber optic amplifier,optical power meter,broadband laser,Tunable laser,optical delayelectro optic modulator,Optical detector,Laser diode driver,Fiber amplifier,erbium doped fiber  amplifier,laser light source,Light source laser.
---
Next:
Rof Electro-optic modulator EDFA Optical Amplifier Erbium Doped Fiber Amplifier YDFA Amplifier
---
Rofea Optoelectronics offers a product line of commercial Electro-optic modulators, Phase modulators, Intensity modulator, Photodetectors, Laser light sources, DFB lasers,Optical amplifiers, EDFA, SLD laser, QPSK modulation, Pulse laser, Light detector, Balanced photodetector, Laser driver, Fiber optic amplifier, Optical power meter, Broadband laser, Tunable laser, Optical detector, Laser diode driver, Fiber amplifier. We also provide many particular modulators for customization, such as 1*4 array phase modulators, ultra-low Vpi, and ultra-high extinction ratio modulators, primarily used in universities and institutes.
Hope our products will be helpful to you and your research.